"Should I go on a first aid course?"
A few years ago, I did. It was an emergency first aid course. A course for clinicians, tailored for the kind of first aid I might need to use at Whitley Bay Osteopathic Centre.
I could think of plenty of situations where it would be useful. Mandy could cut herself getting some sports tape ready for someone. Martin might trip up carrying some things into the clinic and bang his head. Or what if Anna scalded herself making coffee?
I felt that I already knew enough to use common sense for all those, but I liked the idea that I'd have further training to help me do the best thing. I could think of other situations when I might not be so sure.
What if a client fainted in the clinic and was lying on the floor unconscious? Could it be caused by a sugar problem, a blood pressure problem, or even a heart attack or a stroke? In an emergency, I need to be clear about the right thing to do. We clinicians are supposed to repeat our basic first aid training every 3 years and I could see very good reasons for updating my skills and making them specific to a clinical setting..
I knew that if something happened in the clinic, it would be up to those of us on the spot to act and make the right decisions, so this course should help. And I felt sure that if something happened outside, in the street, on a bus or in the park, there would probably be somebody around with more knowledge than me. Perhaps a more experienced first aider. Or a passing doctor or nurse or health visitor. That's what I thought.
I went on the course.
That was in a December. The following May I was on holiday with my partner Stuart. We were in North West Scotland, a place so beautiful it takes your breath away. The combination of sea and loch and mountain and sky – well, it makes me quite emotional. It's also quite remote. You can walk a long way from roads and houses. There isn't a good mobile phone signal.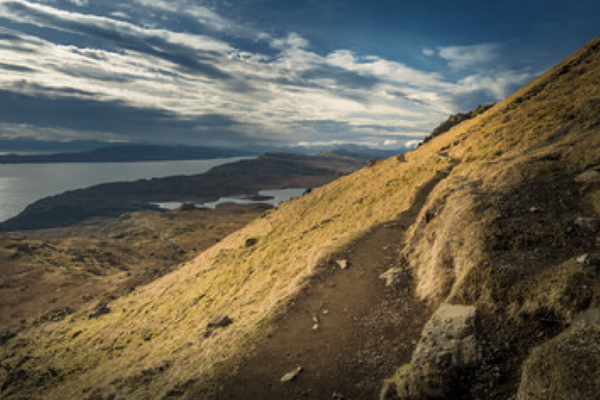 You can probably guess where I'm going with this.
There we were, on a beautiful day, out on the Scoraig Peninsula. It's one of those places where you drive to the end of the road and then you start walking up the mountain. It's a full day out. Nothing to see except stunning views and a sea eagle hunting over the loch. Stuart was behind me on the narrow path and I heard him fall. I ran back to find him lying in the path, blood coming from his head and barely conscious. Then his eyes closed and he stopped breathing.
How fast does a mind work in a situation like this? Are we going to freeze or act? I don't think any of us ever know until it happens. The truth for me is that if there'd been anyone else there, I probably would have frozen and waited for them to do the action. But this time there wasn't anyone else there, and we were a long way from help.
Somehow my knowledge from that 'emergency first aid in the clinic' course kicked in. I started to do CPR on him. You have to push the heels of your hands rhythmically and hard into someone's chest. We've all seen it on the TV but I never imagined I'd end up really doing it, up a mountain, miles from anywhere.
I did what I'd been taught to do. It didn't take long. He opened his eyes and spoke to me. It was frightening and worrying. I didn't really understand what had happened but I knew we had to get help and get off that mountain. In the end we did. Stuart was checked out in hospital and all was well. He's still here and we still love going on holiday to Scotland. But that's how I broke his ribs.
I can hear people saying,
"But that's not the whole story! How did you get off the mountain? You said you'd tell us what happened next? It's called 'when I broke my partner's ribs – and what happened next.'"
Well, this is what happened next, right now. It's been happening ever since that day I turned round and saw him on the ground. I tell everyone I can – go on an emergency first aid course! You don't have to be a clinician, or the designated first aider, or a group leader or any special kind of responsible person. You just have to be somebody, anybody, who might end up in a situation like me – when someone you love falls down the stairs, or trips up or has some kind of accident. You might just be the only one there. And if you know what to do, you could save their life. The ambulance man said that's what I did with Stuart.
Go on a first aid course.